The guest bathroom at our new place is very neutral and I don't know how to decorate it.  It originally had an old glass shower door and because they are so pesky to clean so I asked my landlord to remove it.  Thankfully he did and now I need to choose a shower curtain.  Because the shower curtain determines the color scheme of the entire bathroom it is an overwhelming decision for me and I just can't make up my mind!  Part of me wants to jazz it up with bright colors and the other part of me wants to keep it simple.  Decisions, decisions!  Here is what I have found so far, let me know if you have any suggestions for what to do or where to look!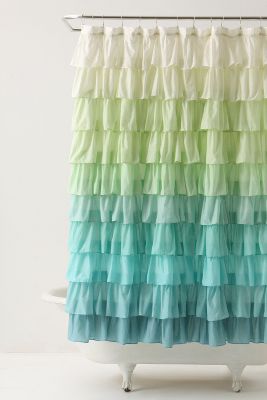 I love the geometric pattern and color scheme of this
West Elm
design…
still jazz it up with colorful towels & accessories…
I love the navy and gray curtain in the middle by
Martha Stewart
, gotta love Martha!