I received a letter from a reader last week asking how to organize photos…
Amanda,
First off, let me say congratulations on your success! I love your blog and your business seems to be thriving. Thank you for all of the great tips! 
I would love to see a blog post about organizing photos, both hard copies and digital. Right now I have my hard photos stuffed in a box (some are in random albums) and my digital pictures are all on my hard drive. I'd love some tips on organizing and filing the photos on my hard drive so that I can find them easily. Also, how should the pictures be backed up (external drive? online backup site?) and how often? Should they be burned to a CD? If so, how should they be organized on the CD? I have got to get my pictures under control and have no idea where to begin! 
Thanks!
Leah
Leah, thank you so much for writing in!  Photo organization is a problem for most people so you are not alone.  Photos are hard to manage for many reasons, the most popular being volume and nostalgia. This is advice that I give my clients but every situation is different so these rules might not apply to everyone.
Sort
So many people have a hard time getting starting on a photo project because they are consumed with figuring out how and where they are going to store the photos.  I tell my clients before any project that they cannot stress about putting things away before they know what they have!
The first thing you need to do when organizing anything is sort.  With photos, start by sorting photos that you love and want to keep from the photos that are junk like duplicates, blurry photos, etc..  If you are sorting printed photos create 2 piles at first, one for keep and one for junk.  If you are sorting digital photos create two albums with your photo software, one for keep, one for junk.  If your photos are in albums take time to remove them, by ditching your old albums you can save on storage space and protect your photos from fading.
If you are sorting hard copy photos group each category together at your workspace.  If you are organizing digital photos begin to create individual events or albums with your photo software, and copy the appropriate photos into the events you have created.  By grouping them together you are able to see the volume of photos and easily choose which photos are special and which are not. 
Once you have completed the initial sorting, break down the keep pile by category.  Categories should be determined by your needs and preferences.  Some ideas are family, year, event, season, by child, etc..
When I choose categories for myself I try not to get too specific just because I don't want to spend all my time looking through hundred and hundreds of albums.  My photos are organized by year and season, for example, winter 2009, summer 2010 etc.. For special events like my brother's wedding I have created a separate category called Nick and Kelly's wedding, even though the even took place in the summer of 2010.
You can see my categories are pretty general. 
Scan
The next step is to scan in your hard copy photos into your computer.  Scanning them in is the best way to protect them and access them easily.  Before you scan them, look through each category pile one more time and eliminate additional photos that are not special to you.  Next, scan each photo onto your computer.  As you scan them in copy them into the category events you created for your digital photos earlier. 
If you don't have time to scan, consider outsourcing the job to your teenager, or neighbor kid to do it for you. 
If you don't have a scanner you can drop your photos off at a photo shop like Ritz Camera to be scanned onto a disk. 
I have an all-in-one scanner, printer, fax that is wireless and I love it.  I bought mine at Costco but here is the link to the same one on Amazon.
I spent some time doing this with some of my old photos a few weeks ago and I was so excited to have digital copies of some of my favorite childhood photos like these…
Me at my first dance recital, you might be
able to guess the song we danced to.
My siblings Ashlie, Nick, and Christopher 
with my after my college graduation.
My sister and I on vacation
in Sutton's Bay 10 years ago,
we haven't changed a bit!
Only scan the photos that you absolutely love!  (The scanning process can take a while so it will be easy to decide). Once your photos are scanned into your computer, copy them into the event categories you created earlier.  
You might say that the quality of a scanned photo isn't as good as the original photo and that can be true.  The reason I love scanning photos onto my computer is so that they take up less physical storage space and I can easily share them with my friends and family.
Shred
Once you finish sorting and scanning, shred or tear up any photos that you do not want and throw them out. They cannot be recycled because of the chemicals used to create them. 
Store
Now that your photos are digital you can create slide shows and presentations with your photo software.  I use iPhoto because I have a MAC but there are a lots of services available online like Flickr, Shutterfly, and Kodak Easyshare just to name a few.
Instead of printing photos and creating clunky albums which be expensive and a pain in the neck to store, I create photo books at Ritz Camera.  They have such great quality, the books take up a fraction of the space.
This is the photo book I made after Nick & Kelly's Wedding…
I was able to customize the layout and design I wanted online.
If you want to store the hard copy photos even after you have scanned them in, I like to use these photo storage boxes.  Divide your photos by category and label the individual slots so you can easily find what you are looking for.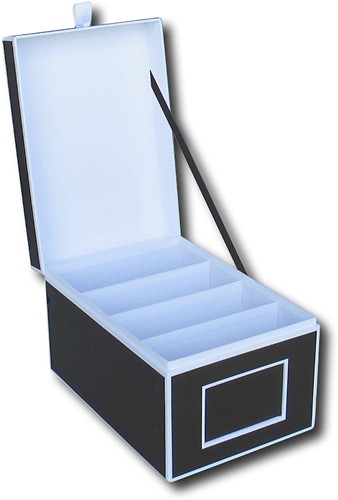 It is also important to back up your photos just in case your computer dies.  You could store your photos on CDs (creating a CD for each event category you created earlier), but CDs have limitations. Photos taken from Digital SLRs will have trouble fitting on CDs and CDs may become damaged over time. Two alternatives are to buy an external hard drive or pay for online storage backup
External Hard Drives – These devices simply plug in to your computer or laptop through the USB connections. Some may also offer networked solutions (such as over WiFi). Try out the Clickfree C2N or Iomega eGo for a slightly more portable solution. 
I hope all of these tips help you out, let me know if you have any questions by emailing me at [email protected]